When something happens to our horse that we would label as very "bad", like an incident, what's the best way to handle that? And how do we manage our own minds through these events? That's what we're going to investigate this week in Weekly ST.
Join Weekly ST and discover what's the most important thing to remember when something terrible happens.
Plus, discover three empowering STrategies to help your horse regain her health and strength and discover which questions to ask yourself to show up as your best and strongest self during hard times.
Weekly STory: Gina & Roman
Listen in this week, for the story of Gina Serkasevich from the USA who helped her horse regain her health and strength after an incident at a show.
Gina is a Scholar in the Basic ST Instructor Certification Program, together with her horse Roman, a German warmblood.
In Weekly ST, we explore how Gina found Straightness Training, the obstacles she faced with her horses, and the 3 STrategies she used to get the results she was looking for.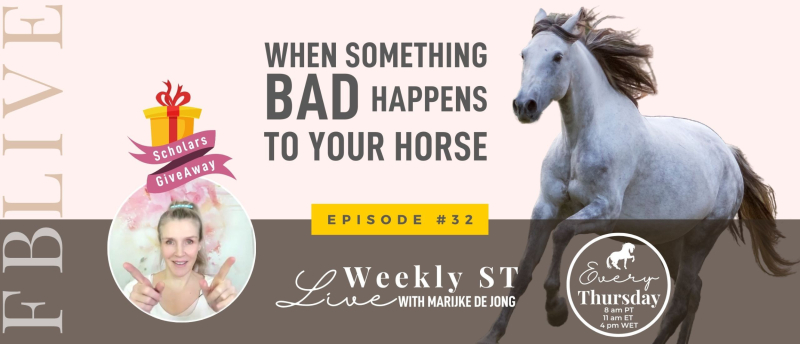 When we see riders who look like us excelling, we believe that it is possible for us to succeed as well!
What You Will Discover
✅ Why there is not point in arguing with reality.
✅ Why it's important to swap resistance for acceptance.
✅ What you actually have control of when something bad happens.
✅ That you never lose the power of choice in those situation.
✅ Three important questions to ask yourself when something bad happens.
✅ The power of perspective.
✅ If you change the way you look at things, the things you look at change.
✅ And so much more!
Tune in to this episode of Weekly ST to learn more!
What Others Have To Say
❝Well done Gina!! Thank you for sharing your ST journey with us!! I like that you chose to do ST with your horse in place of other methods and that it was beneficial for you as well as your horse!❞ ~ Diane/p>
❝My favorite saying now ... don't let the clowns drive the bus!❞ ~ Cynthia
❝I like "It's not a quick fix" so important...both for human and the horse.❞ ~ Annelie
❝"Looking forward to next week 'perfectionism with failure' Weekly ST!❞ 😊🙌~ Adiva
For more comments, check the replay on Facebook
Let's Connect
Let's rally together and stay connected through a live session each week!
This is the recording of the Weekly Broadcast we do on the Marijke de Jong Facebook Page, but we broadcast LIVE on that page, and if you'd like connect, then join me on the MAIN page where I engage with the audience and reply to the comments, here's what to do:
Make sure to come 'Like' my page
Set your Follow settings to 'Favourites'
This way, you won't miss out on any of the Weekly ST live sessions.
Enter the GiveAway
Each week, you'll have a chance to win one month membership as an auditor in the Scholars Program. Here's how it works:
Join live or watch the replay on my Facebook page
Share the replay on your own FB timeline
Type 'shared' below the replay on my Facebook page so I know you'd like to enter the drawing.
Featured On The Show