This is the third blog post in the series of 'Moving To Portugal', and just in case you missed the first two episodes, here they are: ► Turning Dreams Into Reality: Why Portugal? >> ► Day 1: Start in the Netherlands >> Now, some readers of my former blog post asked me: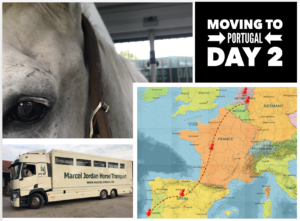 Why slant load in the 'opposite' direction?
Why the diagonal loading faces more to the back?
Why the horse's heads are to the right sight of the truck (if you look from behind)?
This has three reasons: 1. In case of an emergency stop, the horse can catch himself with his hindquarters, instead of with his face or chest. 2. In Europe, we drive on the right side of the street, so in case you have to stop to check the horses, you'll stop at the right side of the street. Then, the safest position for us is to be on the right side of the truck and not on the busy left side where all the traffic is. So, therefore, the shutters are positioned on the right sight of the truck.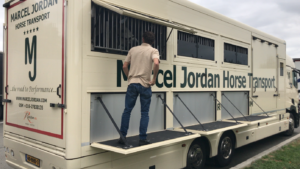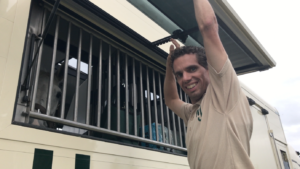 3. Marcel Jordan Horse Transport once transported a horse completely loose and not tight nor in between two walls, and that horse naturally and automatically took the position the horses are in the truck nowadays. So I hope this clarifies things 😊! Now, let me share with you some more 'behind the scenes' of the second day of our journey to Portugal...
On Our Way To France
We started our journey on day 2 in the South of the Netherlands, and then we headed for France: A journey of 11 hours and about 800 km (500 miles). Marcel Jordan drove the first part of the journey, until Belgium, and then Ronnie Veldhuizen took over, since drivers are only allowed to drive 9 hours a day from a legal perspective. So thanks to Marcel, we could get a little further in France, until Poitiers. Of course, we made a few stops and on every stop, Ronnie first insured the well-being of Maestro, Romanesque, Prince Elmelund, Toronto and El Blanco. And he refilled the rubber buckets with fresh water and supplied extra hay for each horse: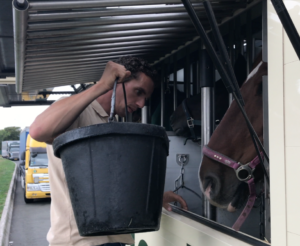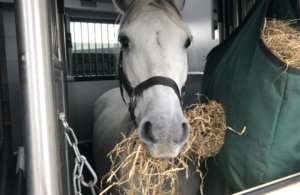 The horses were very relaxed during transport, so they ate and drank well!In this video, you can see how Ronnie takes care of the horses, the food, and the water: In Poitiers, we made a stop for the night at an equestrian center and 'tomorrow' we'll go to Spain, so stay tuned!
➖➖➖➖➖➖➖➖➖➖➖➖➖➖➖➖➖➖➖➖➖➖➖➖➖➖➖➖➖
This blog post is part of the series of 'Moving To Portugal' and just in case you missed one of the other episodes, here they are:
► Turning Dreams Into Reality: Why Portugal? >>
► Day 1: Start In The Netherlands >>
► Day 2: On Our Way To France >>
► Day 3: Transport To Spain >>
► Day 4: Arrival In Portugal >> ➖➖➖➖➖➖➖➖➖➖➖➖➖➖➖➖➖➖➖➖➖➖➖➖➖➖➖➖➖