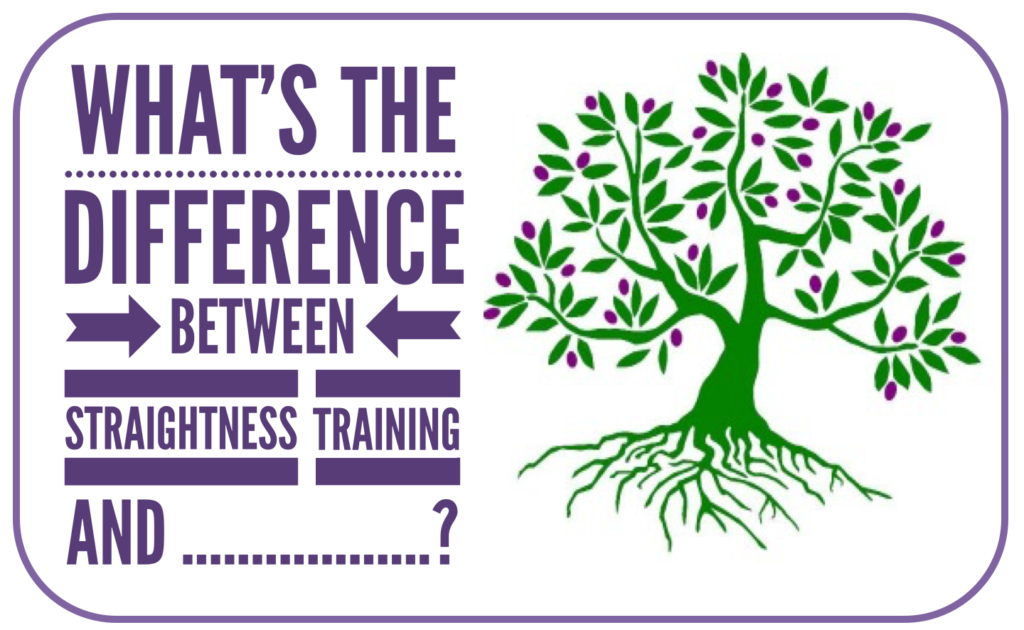 Riders who want to develop their horse to the
highest possible level
when it comes to dressage... ... but are not (only) interested in
Sports dressage
Competition dressage
Modern dressage
Natural horsemanship riding
or trick training
... will often be attracted to the principles of the old grandmasters and their 'classical' way of training horses. Nowadays,
there are many classical styles available
under the names:
Classical riding
Classical dressage
Classical equitation
Classical horsemanship
Classical art of riding
Academic art of riding
Academic riding
Art to ride
Art of riding
Art of horsemanship

Artistic dressage
Equestrian art
Baroque riding
Renaissance riding
German dressage
French dressage
Spanish riding
Italian school
Working equitation
Vaquero riding
etc... So a frequently asked question is:
What's the difference between Straightness Training and these classical styles?
To give you the answer, let's first dive into some history...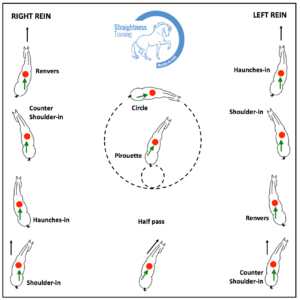 Schooling Opportunities
All of the classical styles, follow the
logical system of progressive exercises.
In this system, the exercises such as circles, shoulder-in, haunches-in (travers), renvers, half pass, and pirouette, are practiced in the different gaits, and in more or less collection or extension. Nowadays,
the average rider has no access to the traditional, academic, royal or military European riding academies.
So riders must find other ways to learn how to apply the logical system of gymnastic and progressive exercises to develop a horse. And there are
many alternative opportunities: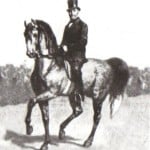 If you want to follow the
ideas of Francois Baucher and/or Nuno Oliveira
you can learn for example from Luis Valença, Philippe Karl, or Robert Stodulka. If you want to ride according to the
Iberian philosophy
you can learn from teachers such as Manolo Mendez, Pedro Torres or Anja Beran. If you want to work according to the
principles of Steinbrecht / Von Neindorff
, you can learn for example from Richard Hinrichs, Thomas Ritter, or Axel Schmidt. If you prefer a combination of
Oliveira/Von Neindorff and Baucher/Steinbrecht
and other grandmasters you can go to Bent Branderup. If you would like to combine
classical dressage with a bit more modern oriented riding,
you can go to Arthur Kottas or David de Wispelaere. If you want to focus on
dressage and rehabilitation,
you can go to Klaus Schöneich or Antoine de Bodt. If you would like to combine
dressage with natural horsemanship
, you can go to Karen Rohlf.
Some of these teachers have also educated their own instructors
who you can learn from.
So when you want to learn for example in the style of Philippe Karl, you can also go to his master teachers Bea Borelle, Melanie Buhlman, Sabine Mosen, Bertrand Ravoux or Sylvia Stössel.
Or if you want to learn in the style of Bent Branderup, you can go to his master teachers Christopher Dahlgren, Marius Schneider or Sabine Oettel who teach the same ideas, but in their own unique style.
And
there are many, many, many more classical teachers,
so you can choose the one that suits you and your horse best and fits the direction you wish to take on your horsemanship journey.
It's Like Football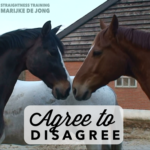 When it comes the 'classical' way of horse training,
it's like football:
There is English football, Spanish football, Italian football... They all play football according to the basic principles and rules, but they all have
their own style.
And each football club has
its own approach
to unite the 11 football players in the game. And within the team, you'll find individual football players such as Messi from Argentina and Ronaldo from Portugal: Both plays in the Spanish first division, both are true artists in the same game, but
they have a completely different and authentic style
. Therefore, they might not agree with each other's approach, but at least they
agree to disagree
and enjoy the game!
Different Branches On The Tree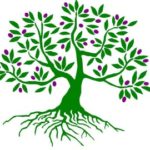 Also within the 'classical' way of horse training, there are many styles. In theory,
they all have the same 'root', but they are a different branch of the tree
. So they all have their own goals, ideals, and perspectives when it comes to training horses and the exercises used. And within each 'branch' style, each master instructor teaches his
own interpretation
, showing his own way of getting to the ideals. And even
every single rider within a common style develops his own, unique style
. And that leads to little differences in all traditional training styles – such as:
Special and unique clothing
Exclusive equipment and saddles
Training with a plastic or wooden whip
Riding one-handed or two-handed
Doing exercises above the ground or only on the ground
Training only with pressure and release (negative reinforcement, -R) or also with rewards (positive reinforcement, +R)
Only with tools or also without
And all styles have a different way of teaching
:
Some styles mainly rely on practical hands-on instruction
Where in some styles there's only one leading master teacher and in other styles you'll find many instructors on different levels.
Some master instructors created books
Others also have dvds
Or online videos
Others provide online coaching too
Or an online membership
Besides all these differences, it's important to realize:
There Is No 'ONE And ONLY' Way!
THE classical dressage or THE academic art of riding or THE Baroque riding doesn't exist. It's the same with wine: There is no 'ONE and ONLY' when it comes to Chardonnay... THE Sauvignon Blanc doesn't exist...
And
it doesn't help to compare one 'branch' and one style with another!
That would be the same as comparing the Dutch with the Belgian language: They look and sound similar, but there are many tiny little differences. That doesn't matter,
both are good!
But in the learning phase,
make sure to choose one, to
avoid chasing two rabbits
where you end up with no or poor results. Having said that, let's go back to the original topic:
Where Does Straightness Training Fit In?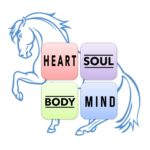 How does straightness training relate to all the styles? It's simple: You can do straightness training without doing a specific riding style – whether it's classical or modern – but you cannot do any of the riding styles without straightness training. Because
every horse is asymmetrical by nature!
So you have to develop the horse
symmetrically in body and limbs
... ... to give them the
best possible physique
to carry a rider... ...
no matter what
their conformation, breed or size! Because, you cannot just go sit on a horse: That often leads to unnecesary stress and tension in body and mind. And you cannot just ride the 'names' of all the exercises: You have to
keep an eye on the essence!
Only then you will
contribute to your horse's well-being
and help your horse to get and stay in balance in
body, mind, heart, and soul.
And What About The ST Teaching Style?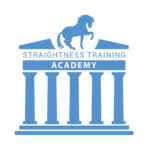 When it comes to the style of teaching, educational materials, and support: The online
Straightness Training Academy
offers a program that is quite comprehensive and is designed to support riders - wherever they are in the world. We believe, that the world needs riders who have an
amazing relationship
and
magnificent life
with their horses. A world
without unnecessary suffering
for horses and riders, because life's too short to suffer. So in the ST Academy, you'll learn about the concepts, tactics, and strategies that helped riders across the world to
overcome struggles
, plateaus, setbacks, and challenges with your horse. Because we deeply believe that you too can turn things around and
make a positive difference for your horse
! Or, in case you're not struggling: For sure, you can
get to the next levels of you and your horse's abilities
, while having a fun and fulfilling life with your horse along the way!
And the ST Academy will help you with that:
There are hundreds of 'how-to' videos and manuals in the ST Mastery Program to explain every little detail of all gymnastic exercises in groundwork, longeing, work in hand, riding and liberty.
For hands-on lessons and live workshops, you can go to ST Instructors.
To get coaching online on videos of your work, you can contact ST Evaluators.
To get answers to your questions, you can join live mastermind sessions with Marijke de Jong.
And at every moment you need help, you have access to 24/7 support by the ST community, so you'll get the support you need within 24h.
Together Is Better
In the ST Academy, you'll meet like-minded Mastery students all across the world!
Because a lot of riders are
'the only one' doing Straightness Training
in the riding arena... Or at the barn... Or in their home town... Or even in the country! And
that's the wonderful thing
about the ST Academy: You'll reach ST experts and like-minded Mastery students all across the world, but
you never have to leave home!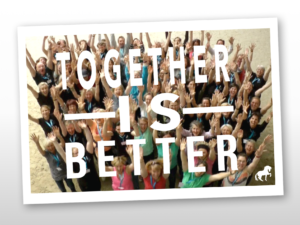 We believe in '
together is better
' and thanks to the internet
we can do great things together!
We can build a world in which the vast majority of riders
go home every day feeling fulfilled
by training their horse! We believe in a
bright future
and our ability to
build it together
. Therefore, we'd like to inspire people to do the things that
inspire themselves and their horses.
No matter your dreams or obstacles,
you have the power to be the change you want to see in the horse world
! And the
ST Academy
can help you with that!
Links to Relevant & Recommended Articles
Join My Free Training
Jump on over to my free training were you
get a three-step process
for implementing Straightness Training in your training sessions right now. Watch
two videos
and
download your free eBook
which will help you put the information into action right away: