Last month, El Blanco passed away at the age of 18 years old. 💕🦄💕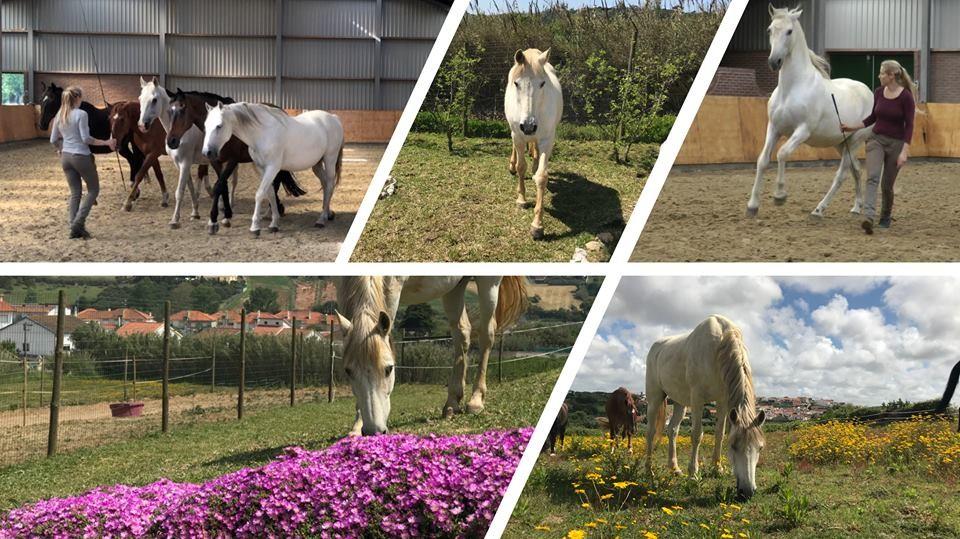 ‍‍
The veterinarian team at the University of Lisbon worked a whole night to save his life, but he died during a colic surgery. ‍‍ ‍‍ Also, my own vets did all they could, but it was his time to go. ‍‍ ‍‍ 
I feel so grateful that he was - and still is - part of my life. 💕🦄💕 ‍‍ ‍‍ 
El Blanco was far from an "easy" horse, and he had a fascinating personality and high spirit, but I loved it because from the most "difficult" and pure horses we learn the most! ‍‍ ‍‍ We had our Mastery path together, and he shared his wisdom not only with me but with thousands of Straightness Training Students, and he inspired everyone who met him in real life. ‍‍ ‍‍ 
Above all, El Blanco was a true friend of mine in the shape of a horse, and he loved to hang out with us in our garden. 🌸🌺🌸 ‍‍ ‍‍ 
I am so happy that our life together was full of discoveries, adventures, joy, and freedom, and I will love him forever! 💕🦄💕 ‍‍ ‍‍ 
Of course, as horse trainers, we know that death is part of life because of the short lifespans horses have compared to ours. Nevertheless, it has always a huge impact when it comes time to say goodbye to a friend that has been part of our family for years. ‍‍ ‍‍ 
It was one big win to have El Blanco around for so many years, so I do not consider it as a "loss" because he had so much to give us and to teach us while he was here. The wisdom he shared and the memories he gave us will live on forever, and he will be forever in our hearts. 💕🦄💕 ‍‍ ‍‍ 
While some riders may believe that every horse is a "tiny tragedy" waiting to happen because of their relatively short life span, I'd prefer to think of horses and dogs and other pets as wonderful miracles that we are privileged to love, enjoy, and be together with for a short period in our lives. It's the greatest gift in life to develop a strong connection with an animal, sharing that deep friendship, learning from that animal, for no matter how long or short a time. They may leave us too soon, but they always leave us with good memories and loads of lessons learned. ‍‍ ‍‍ 
Last month, I spent a lot of time reflecting upon happy and valuable moments we had together, and I cherish all the precious memories I have with El Blanco. I am at peace now and maintain positive energy to enjoy the ongoing happy moments that I'm sharing with my other four horses. ‍‍ ‍‍ 
One of his biggest lessons and treasures El Blanco gave to the world was to focus on horses as a hole and to help them find balance in body, mind, heart and soul. I will keep spreading this wisdom so I can honor what El Blanco taught us, and I will keep sharing the knowledge and many other experiences he gave me so other horses can benefit from that as well. ‍‍ ‍‍ 
Please share with me the best memory you have of El Blanco, or of a horse friend that is now gone, to give them a tribute and to honor the precious memory >> 💕🦄💕