Callie Klein from Nevada, USA, graduated in the Straightness Training Academy in Grade 1 for a second time! Callie is a Scholar in the Basic ST Instructor Certification Program and last month, she passed her Liberty Grade 1 Touchstone with her Azetca gelding, Rascl, and with that milestone, she has passed all 5 Touchstones in Grade 1 with her second horse. Congratulations Callie, keep up the good work in the Certification Program!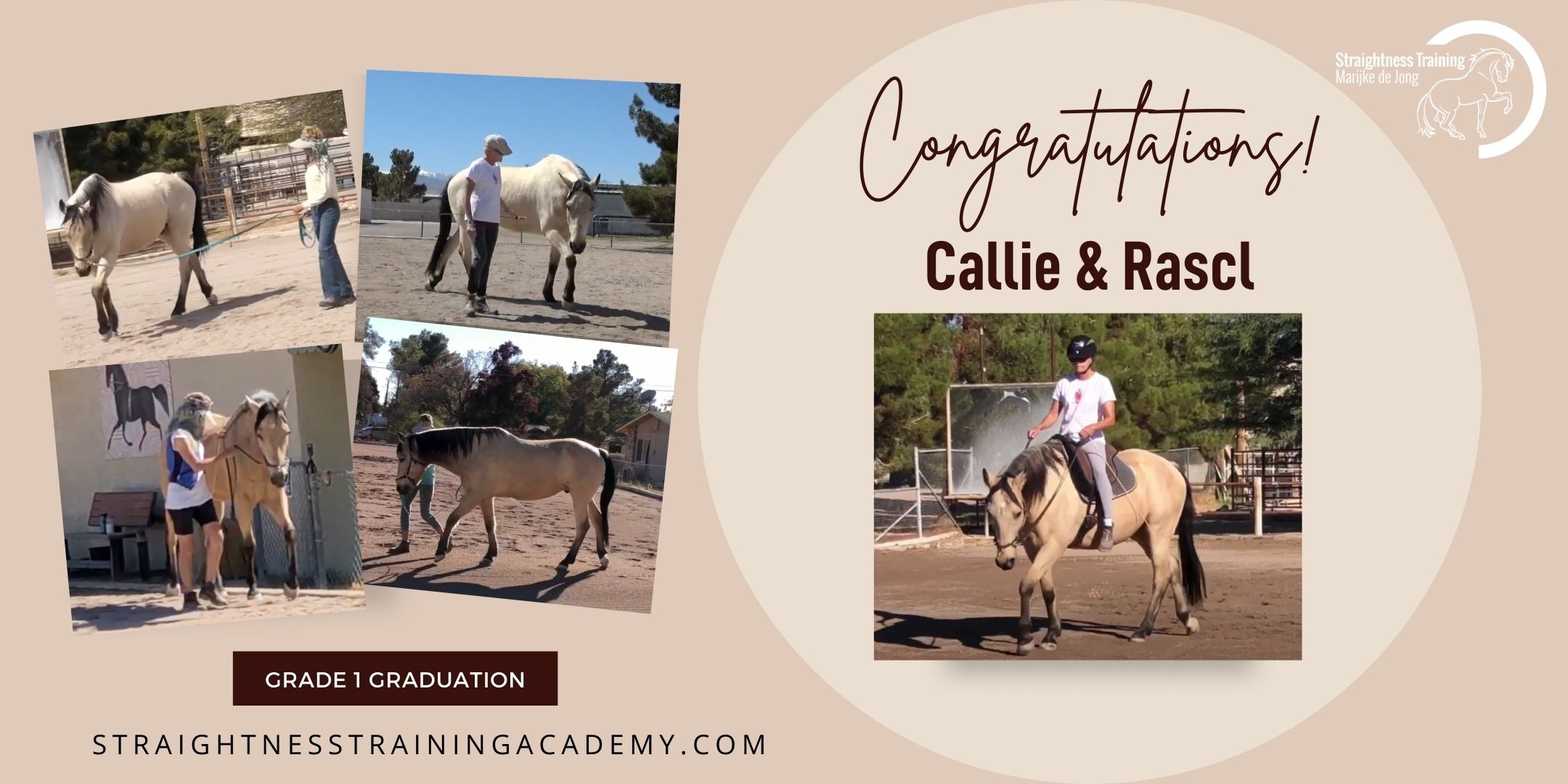 And thanks, Callie, for taking the time to share your experience with the programs: 
❝I had the opportunity to acquire Rascal, an Azteca (baroque cross) gelding, a couple of years ago when he was about 12 years old; he was green and with very little training but I was really excited about that. When I rode him for the first time I noticed immediately how open-minded he was, already figuring out what I was asking for. I was so happy the owner allowed me to purchase him and take him home. 
My biggest learning with Rascal in Scholars has been the concept of understanding and training from the "Inside - Out" as opposed to learning something and then applying the knowledge from the "Outside-In." Or learning a concept and then doing the concept to the horse. 
I've really only started to take the incredible and immense intellectual knowledge from Scholars to the inside of me where some understanding is truly starting to happen, and I'm just so excited about it! And with this understanding from within, I can now ask my horse into a dialogue, in a way that comes from me, my heart, my feeling, and not just from the information in my brain 'about' a subject or what I want to apply 'to' my horse. 
One of the definitions in the Oxford dictionary for understanding is, "an informal or unspoken agreement or arrangement." I now see my work with Rascal as more of an informal and unspoken agreement to engage in dialogue together and enjoy each other so much more than me being in an intellectual sphere. As to participation in the Evaluation program, I have taken on a completely new mindset. In the past I was very judgmental of myself, looking at my scores and judging myself from a very limited mindset, even though the ST program clearly coaches me not to do that! I made some self-discoveries over the last year. 
After adjusting and continuing to readjust my own mindset now I really enjoy the process of growing and improving instead of being in achievement mode as I have been in the past. I am breaking out of some old molds and thinking and pushing through the stagnant mental barriers of the past. 
The Scholars Self Mastery, Hot Seat, Breakthrough, and Mastermind sessions always bring something important to focus on, that one particular error to fix, or those two things that can really make a difference now. In the BCP program, there's this lovely quote by Antoine de Pluvinel, "It's not necessary to remind a pupil every time he makes a 'mistake'. One should do this when the time is right, to not confuse the pupil. Sometimes one should ignore something." 
Detecting the one important thing to do now in the Scholars cycle has been a huge game-changer for me with Rascl. He is happy too because I'm not so flighty or trying to juggle too many balls unsuccessfully, and can now be clear and of course, that brings clarity for both of us! 
All my horses feel more successful now because of my changes, and that's what makes me really happy! 
Thank you to everyone in ST Scholars who have helped me and Rascl in our journey together!!!
❞