Christine de Groef from Belgium is a Scholar in the Basic ST Instructor Certification Program and recently, Christine graduated in the Straightness Training Academy in Grade 1 in all five training pillars: groundwork, longeing, work in hand, riding and Straightness Training at liberty.
Congratulations Christine, keep up the good work in the Certification Program!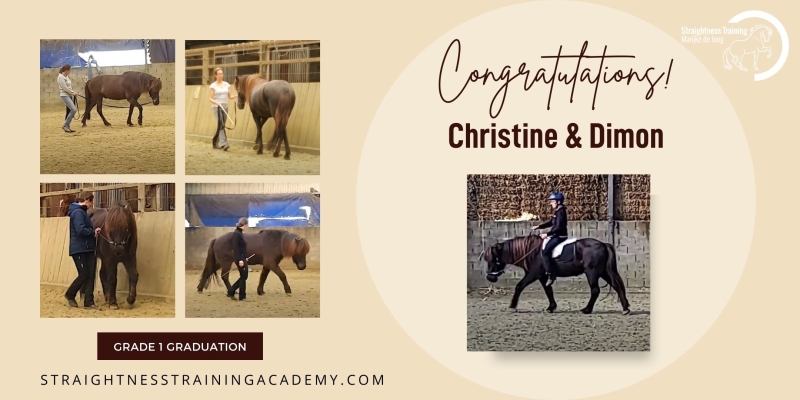 And thanks, Christine, for taking the time to share your STory with us:
❝
Dimon wandered in my life 5 years ago. At that time, he was just six and barely broken. He was looking for a better human match, and I was done with riding "dressage" with other's horse and achieving anything but look-a-likes. With Dimon the Icelandic Warrior, I would start a new horse life end enjoy endless tölt riding in the neighbour woods! Haha, that was not counting Dimon, who could not tölt at all and even worse, he was not very keen on leaving the barn on its own...
I was aware Dimon was young and needed schooling, and I had read some dressage books already, but because Dimon was my first horse of my own I felt very insecure and I was afraid of getting it all wrong.
I realized that actually, I knew bitterly little about horses, despite my years of experience with other's horses and reading books. I decided to take huge action, squeezing Google like a lemon to find an answer on every question that popped up in my mind. Now, that required a lot of time and to be honest, it was not efficient because it created more additional questions than answers.
The positive thing of all my Google raids was that once, I stumbled on the Straightness Training website, offering a free Masterclass. That was in November 2017. I was immediately flattered by the step by step approach, and the combined focus on physical and mental balance. There was also talk about self mastery, but at that time, I couldn't see the point yet.
From the start, I decided to go for it! I've studied every e-book, watched every video, tried to apply all the tips and whenever possible, I even took part of the clinics. In this mind setting, the touchstones were an obvious part of the game, even if passing them was much like a tedious and challenging hurdle. Our journey was slow, but looking back once and then, there was evidence of progress, and that kept me motivated!
The COVID pandemic shaked up our lifes, and turned out to be a huge game changer for us. From the start of the pandemic, Marijke De Jong offered free webinars about self mastery, which allowed me to rediscover this important subject in ST, and to finally understand its power to achieve better life quality, but also to train your horse better. Because it was not possible to have life teaching anymore, I invested in a PIVO, to film our training sessions. The next logical step was to dive in the ST Scholars. Doing monthly cycles happened to act as a lever on our progress, and it helped us a lot to improve our training, step by step. The liberty pillar happened to be the most challenging one, and probably the one we needed most. Dimon is not easy to motivate and I tend to fix the job mechanically when Dimon is reluctant to share his responsibility. Nowadays, training in liberty is just a no-brainer and we do it on a nearly daily basis!
Even if we still have to learn a lot and we still face challenges, ST has been a huge game changer for us! Winner horse Dimon is complimented for his behavior and his dressage level. Instead of complaining and despairing about our challenges, I try to use them as an opportunity to learn and improve. Self mastery has become my herb garden where I explore the tools to shape up my life, like herbs can improve your health.
And who would have ever thought that I could gain enough self-confidence to learn how to teach the basic ST concepts as a Basic ST Training Instructor???
Last but not least, Dimon and I have recently attended a tölt clinic. It was the first one since the pandemic and yes, I was tensed. But Dimon acted as my dreamed Viking Warrior! He was so enthusiastic about the track that we agreed to let him lose his energy in a forward gait. Guess what? Dimon opted for tölt!!! ❞
~ Christine de Groef, Belgium
Get Certified
Do you want to become a certified Straightness Trainer? Learn more about our certification path and join the thousands who have contributed to the well-being of their horses: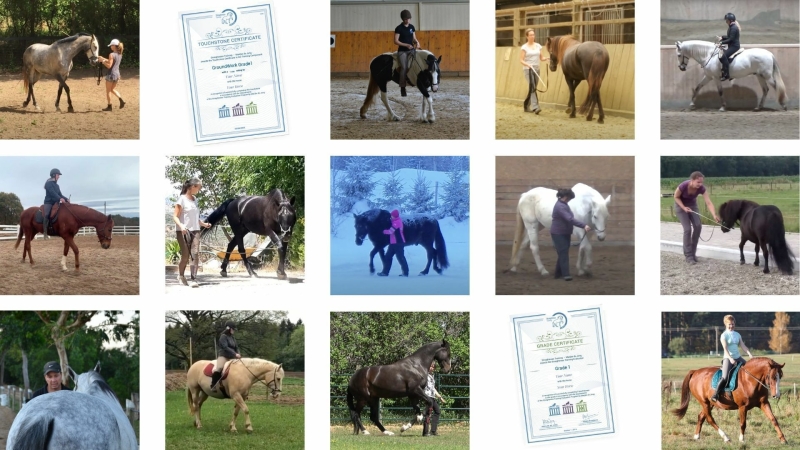 Instructor Confidence Bootcamp
You're invited to join the Instructor Confidence Bootcamp on January 14-15-16 where you can learn the skills to teach Straightness Training to other people and gain the confidence to do so - even if you think you're too old or not good enough: