Clare Frost from the United Kingdom graduated in the Straightness Training Academy in Grade 1 in all five training pillars: groundwork, longeing, work in hand, riding and Straightness Training at liberty.
Clare passed her final Touchstone this summer with her Anglo Arabian gelding Salsero and with that milestone, she has passed all 5 Touchstones in Grade 1.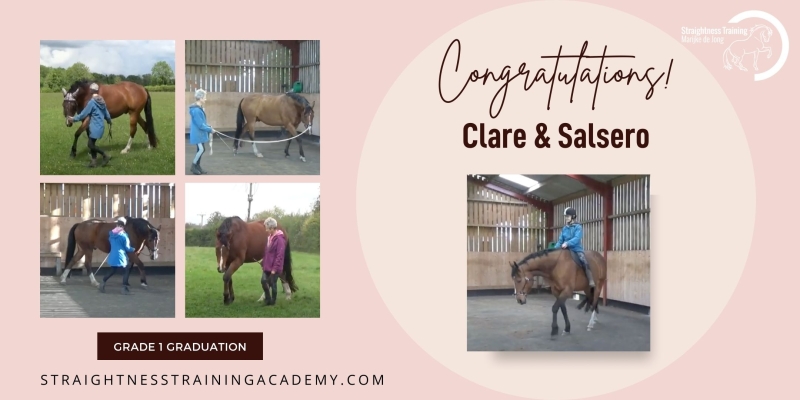 And thanks, Clare for taking the time to share your experience with the Scholars Program:
❝My Anglo-Arab Salsero had a displaced pelvis from birth, with twisted legs, partial paralysis of the hind legs, incontinence and a crossed jaw. He couldn't lift his hind legs properly and could not move them at all, laterally or backwards. My work is about healing horses, and I have a passion for alignment, so I started helping him with breathing and bodywork.
In 2015, one of my clients showed me a video of her doing ST (as a beginner), and I instantly knew that I wanted to do ST myself. Following an accident in my youth, I've never had full health, and so I've never been able to pursue training in any horsemanship method, but I just knew straight away that ST was right for me. In addition, being online it was accessible to me. I joined the Home Study Course.
Adding ST to the mix was a great help over the next 3 years, despite my inexperience and Sero's disabilities. Then, while watching Marijke's 2019 masterclass, I realised that at last, I was now well enough to sign up for ST Mastery. Mastery was all that I hoped it would be. My rate of learning shot up, and the year flew past. I've always wanted to train horses in a way that benefits them and encourages energetic communication. I had no hesitation in signing up for Scholars.
Scholars is perfect for me. Here are some of the things I love;
learning through working on my own with my horses
weekly lessons from highly skilled, experienced, supportive and creative coaches
replaying my lessons and learning more each time
joining other scholars' lessons and learning something new in each one
the interactive feedback that prevents me from going too far off track
access to a huge library and skills and experience of the coaches and fellow scholars
the ST Scholars community and being connected with such supportive, dedicated, courageous and interesting people
My time in Scholars has been intense and absorbing. Sometimes it can be painful, especially, for example, when my abilities fall short of my expectation or when Salsero struggles to make physical changes. But the Scholars course preparation on how to deal with 'failure' and difficult times is thorough, so although, yes, it's not much fun, it doesn't worry me, and I know there's a way forward and plenty of support if I need it. And also that good will come of it.
Salsero has made enormous improvements. He now has almost full use of his hind legs, and most of the compensations that arose due to his disabilities are gone. At last, he is able to soften his underneck!!
I also have two thoroughbred ex-racehorses that were damaged in the racing industry. The gains they all have made bring me great joy.
All my life, I have wanted to become a good rider, and now at the age of 65, I am learning to do this.
What a precious gift!
Thank you, Marijke and team, and fellow scholars. xxx❞
~ Clare Frost, UK
Get Coached. Get Better. Get Results.
Scholars is our monthly coaching program where we coach you live to help you take your Groundwork, Longeing, Work in hand, Liberty, and Riding - from where ever it is - to the next level. Whether you're completely new to Straightness Training or want to prepare yourself for the Basic ST Instructor Certification Program, we're dedicated to helping you get the results you are looking for.