Debbie Watts from Nebraska, USA graduated in the Straightness Training Academy in Grade 1!
Debbie is a Scholar in the Basic ST Instructor Certification Program and this month, she passed her Longeing Grade 1 Touchstone with her half Percheron draft horse Sukie, and with that milestone, she has passed all 5 Touchstones in Grade 1.
Congratulations Debbie, keep up the good work in the Certification Program!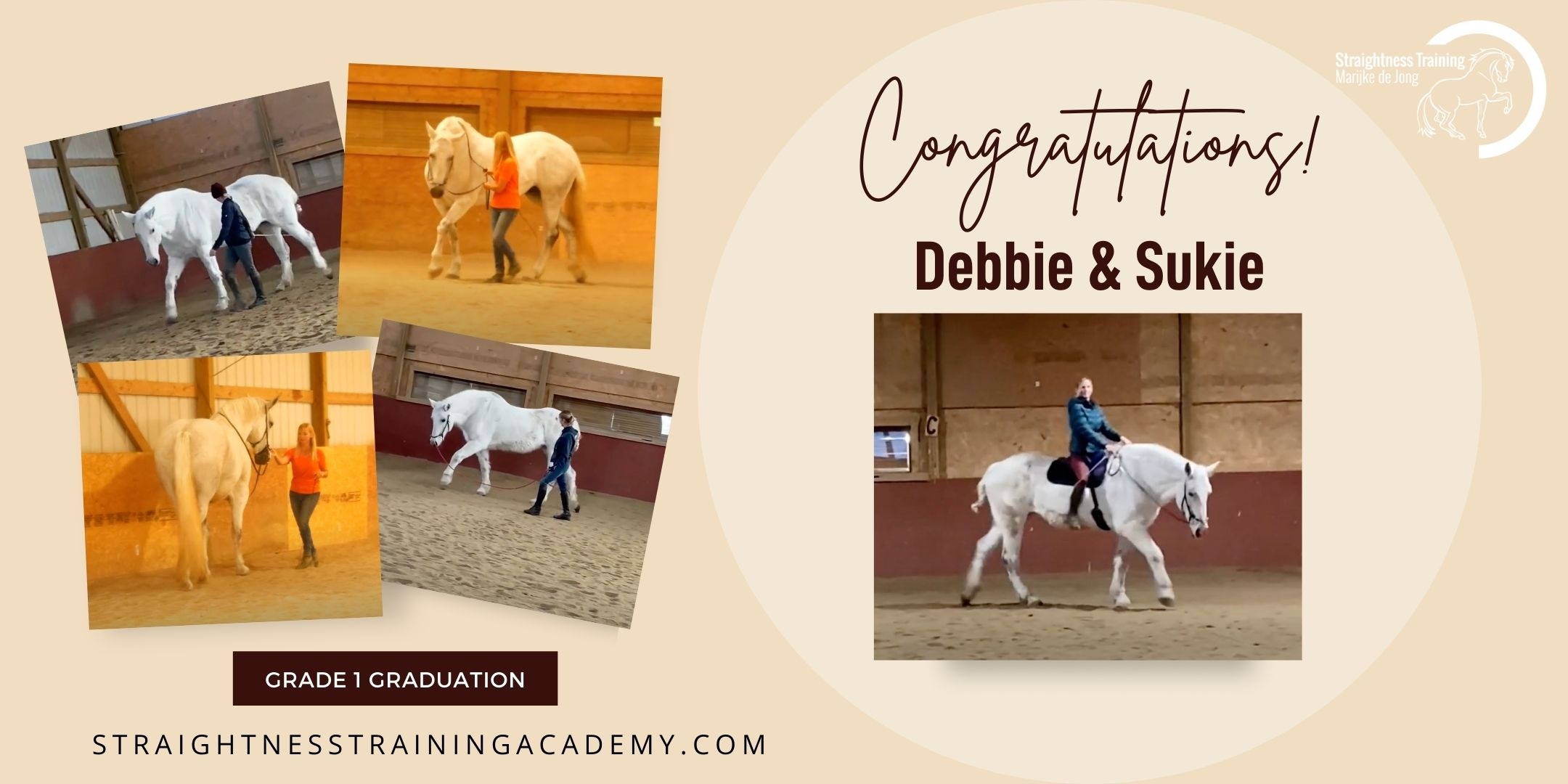 And thanks, Debbie, for taking the time to share your experience with the programs:
❝I came across ST in 2014 when I was looking for some sound advice in training my riding. Sukie is a half Percheron draft horse who had been trained to drive but had some big asymmetries pop up in riding. I had never heard of ST before, but all of Marijke's articles I read made complete sense to me based on what I already knew of a horse's asymmetry. Here in the States, it is still not widely recognized nor is it always well accepted. Finally, a couple of years later, I came to the conclusion that I absolutely wanted and needed ST in my training Sukie. I couldn't ride in a circle without major imbalance, and I didn't like feeling like I was arguing with her.
I needed a better way of communicating and helping her. I had the feeling that ST would be the perfect style and way of training and communicating for us.
In mid 2017, I joined the Mastery program and have not regretted a single moment. It hasn't been easy with all the ups and downs life brings, but it has been thrilling and fulfilling for me to be training in this way and with this ST community! Along with the growing pains has been the beauty and joy of growth as well. 🌱 🌳 🐣 🕊
Then when I joined Scholars, I was even more thrilled! I love being able to go to my computer and in my time and pace be totally submerged in ST, then go and practice with my horse. Scholars lit a fire in me!🔥 I love how Scholars is designed to both educate and inspire by watching all the Hot Seat and Breakthrough video lessons with the great coaches, and is also designed to be a 'go at your own pace', so you don't feel rushed nor like you're missing out. You can watch the videos that pertain to where you're at with your own horse, but then you get that needed nudge of motivation to get going along with the monthly cycles.🙌
And it's not just training the horse, but training yourself as well with Marijke's Self Mastery, Habit Stack and FB Live classes. Such a wonderful resource and well worth it! Marijke and her awesome team are super supportive and dedicated to help us get to where we want to be with our horses.
This year I am also in
the BCP program
to become able to share ST with others. I am so grateful to have this opportunity at this point in my life and excited to be furthering my knowledge and skills in Straightness Training. What a fantastic and valuable year of learning this will be! 💛 💫
❞
~ Debbie Watts, Nebraska, USA

Get Coached. Get Better. Get Results.
Scholars is our monthly coaching program where we coach you live to help you take your Groundwork, Longeing, Work in hand, Liberty, and Riding - from where ever it is - to the next level. Whether you're completely new to Straightness Training or want to prepare yourself for the Basic ST Instructor Certification Program, we're dedicated to helping you get the results you are looking for.


Get Certified
Becoming an amazing Basic ST Instructor is possible for you. We've created a free 5-part video training for you to show you a life-changing opportunity and share the Japanese secret to finding a rich and fufilling career and living the dream: