Gisela Marnewecke from the South Africa graduated in the Straightness Training Academy in Grade 1!
Gisela is a Scholar in the Basic ST Instructor Certification Program and this month, she passed her Riding Grade 1 Touchstone and updated her Groundwork Grade 1 Touchstone with her horse Corday, and with those milestones, she has passed all 5 Touchstones in Grade 1.
Congratulations Gisela, keep up the good work in the Certification Program!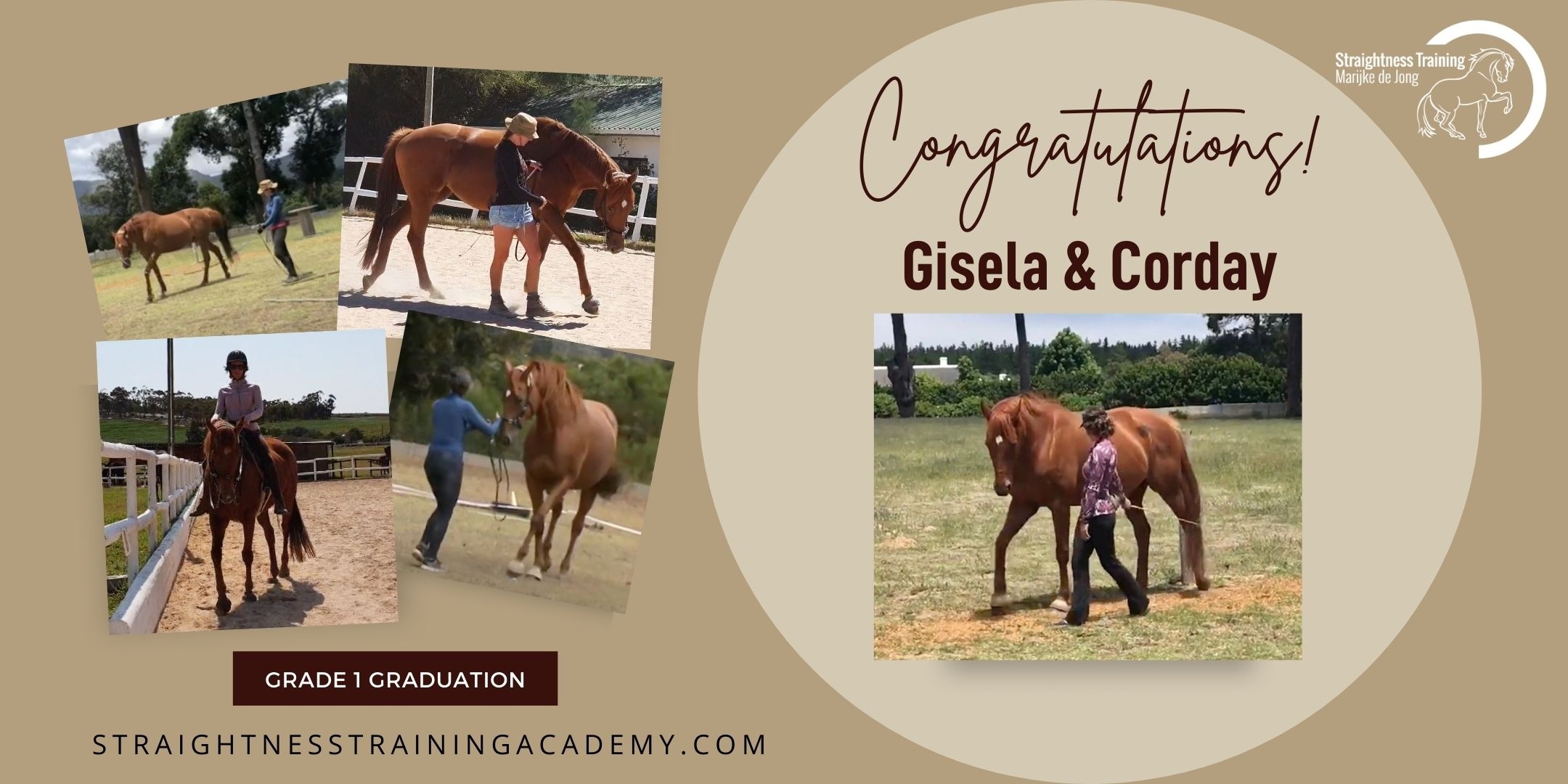 And thanks, Gisela, for taking the time to share your experience with the programs:
❝I discovered ST in 2015, after a long search for a program and teacher that would take my horsemanship to the next level. Up until that point, I had practiced very conventional riding as a child educated in a riding school, and then later on I had studied natural horsemanship with a well-known western trainer in the US.
However I was never fully satisfied with the methods I found, as although they were effective, I felt that they either lacked attention to the horse's mental and emotional well-being or, if they prioritized these, then there was very little focus on physical quality.
At the time of finding ST, I had a new 'dream horse': a previously wild (untouched) 3-year-old Namibian Warmblood mare whom I had tamed and built a strong basis of trust, but whom I had not yet backed. I was determined to find a way of working with her that would not destroy the look of warmth and curiosity that she had in her eyes when I approached her.
Suffice to say that when I had read through the Mastery program, I was sold. It had everything I had hoped for, and more: it included ideas and concepts from trainers I already admired, a clear breakdown of how to do the exercises, and a huge knowledge base of theory to explain the 'why'.
The balance between the physical, emotional, mental, and spiritual was what really hooked me though, and I felt that here, at last, was a truly comprehensive, holistic training system. In fact, I was so impressed by it that I remember thinking not 'I want to learn this' but 'I want to teach this'. I felt convinced that more people needed to understand the concepts of natural asymmetry and the progressive system of gymnastic exercises designed to counteract it. I still feel that every rider should have this knowledge; that our horses NEED us to know this about them.
As for the journey, however, I cannot pretend that it has been smooth. My own wheel of mastery was lopsided and empty, and the Touchstones revealed many hard-to-evict gremlins from my own mind. I needed to understand horses better, to show up better, to practice with more presence and less bullshit. Joining Scholars has been a great game changer as it has forced me to prioritize my training and to show up for learning even if I feel I haven't practiced enough, or our performance is too sloppy (die, perfectionist!) or whatever.
This year I have also signed up for the BCP program and am on the road to realizing my dream of sharing this knowledge with other riders in my area and beyond.
Most importantly of all, I must say that this program has given me a deep gratitude and sense of awe for what horses can offer us if we only know how to ask. The patience and forbearance that my beautiful Corday has shown me, and more recently the awesome pride and self-carriage, have blown me away. She is my muse and my absolute delight: when we train together, I'm that horse-crazy kid who can't believe her luck at the magnificent creature before me!
If I were to share one burning insight, I think it would be that I have come to realize that my highest and truest goal is to achieve dialogue with my horse. To this end, the 5R formula has been my mantra and I discipline myself constantly to follow its rules. This means that every time things go off course and I have a yucky training session, I go back the next day with dialogue as my only goal and the 5R formula as my language. This has taught me to stay present, skip the expectations, listen to my horse, and above all appreciate, appreciate, appreciate! And even if we 'only' work on LFS circles, I'm back to cloud 9 with the most gorgeous horse in the world beside me! It's magic!
Thank you Marijke, Marc, and above all my inspirational coach Zaneta for guiding me on this incredible journey. How lucky am I!❞
~ Gisela Marnewecke from South Africa

Fast Track Basic ST Instructor Certification is officially OPEN
It's an incredible opportunity that will go fast. We created a NEW session for Basic ST Instructor Certification. It's called Fast Track:
Get Coached. Get Better. Get Results.
Scholars is our monthly coaching program where we coach you live to help you take your Groundwork, Longeing, Work in hand, Liberty, and Riding - from where ever it is - to the next level. Whether you're completely new to Straightness Training or want to prepare yourself for the Basic ST Instructor Certification Program, we're dedicated to helping you get the results you are looking for.


Get Certified
Becoming an amazing Basic ST Instructor is possible for you. We've created a free 5-part video training for you to show you a life-changing opportunity and share the Japanese secret to finding a rich and fufilling career and living the dream: