ST Trainee Instructor Rosan Veer in action with Toronto: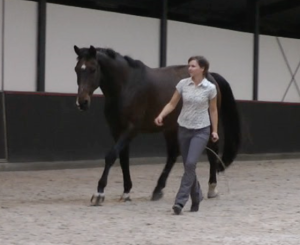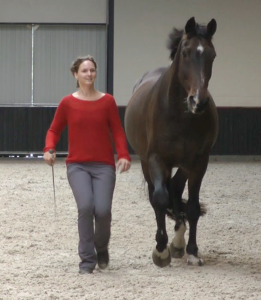 Rosan Veer: "What an amazing and inspiring days I've had! Together with my fellow Straightness Training trainee instructors Anouk and Zaneta (who came all the way from South Africa!) I was invited to Marijke's 'horselab'. I had the honour to work with Toronto, a real giant compared to Ciaran! But a very lovely giant :)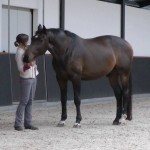 We did lot's of liberty work. The first session, I discovered I was too friendly – yes, being too friendly can also cause disharmony, because there is lack of clarity and self-confident guidance. I was too friendly because I'd rather made the mistake of being too friendly than being too unfriendly; I stayed on the safe side... But staying at the save 'too friendly' spot makes you getting stuck there and won't bring you closer to the harmony and balance you are searching.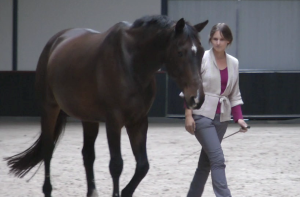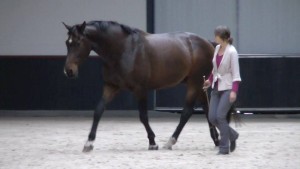 In working with horses it's good to dare to make mistakes and leave your safe haven so you can learn to sail together. It was my topic these days; let go of control, feel free and trust the process. Just do! Exploring different ways of being and doing (and making mistakes in the process) is the quickest route to the balanced middle. I had a great time together with Toronto, we had so much fun! We were really figuring things out together and both enjoyed it a lot. We also did some groundwork and work in hand.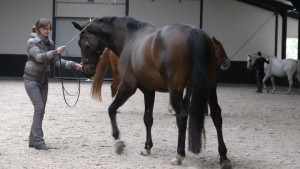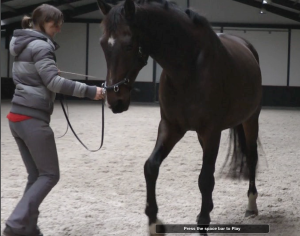 He gave me a good feel of the half pass and pirouette in groundwork – Ciaran and I are working on that – that I can take home with me. We also did the work in hand sequence in trot. That was a new experience for me, because Ciaran is not there yet, but it's good to have some glimpses of the future ;) Toronto has such a nice trot, he was a real professor for me.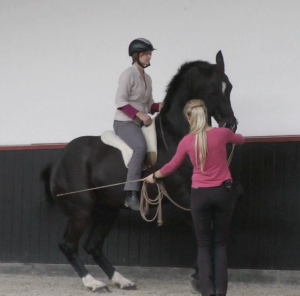 We were also invited to have a ride on Romanesque to feel piaffe, levade and canter pirouette! It was absolutely AMAZING to feel!! Romanesque feels so balanced, soft and powerful, very special! I also could feel the half-pass and pirouette on him; so I can remember this feeling when riding Ciaran. Again, this felt so well-balanced and light... Well, I know what to search for ;)
I'm so grateful for these days and for my professor-buddy Toronto; he was a fantastic teacher for me! Thank you Marijke – it was brilliant :) "
  Click HERE to find Rosan Veer on Facebook >>Click HERE for the Video with Rosan and Romanesque >>Click HERE for the Video with Rosan and Toronto >>